In advance of the IBC tradeshow in Amsterdam, Silverwood Partners has published an updated strategic analysis of the media technology sector. Highlights of the strategic analysis include:
Strong year-to-date for M&A and venture financing activity
Implications of trends - Multiscreen, File-based workflows, 4K, Cloud, HD, 3D
Review of growth drivers and growth strategies
M&A drivers - buy vs. build and new technology acquisition
Impact on vendors of accelerating broadcast customer consolidation
Below is a link to the PDF document (7.6 MB).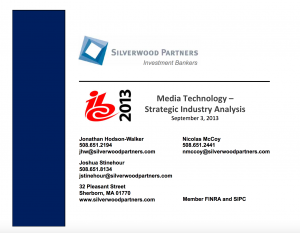 Silverwood will have a full team available at the IBC show, and we would welcome the opportunity to meet at the show to review the industry trends highlighted in the latest analysis, as well as to discuss your business and strategic objectives.
To schedule a meeting at IBC, please contact :