As the media technology industry prepares for the upcoming IBC tradeshow in Amsterdam, we at Silverwood continue to monitor the important trends and participate in the major discussions driving the industry. Below is a link to our latest strategic industry analysis, a distillation of our views on the state of the industry and the financial markets, and what the strategic and valuation implications are for industry leaders, participants, and observers.
Please click on the link below to download the report: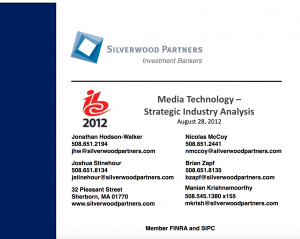 As always, Silverwood will have a full team available at the IBC show, and we would welcome the chance to meet with you during the show to elaborate on the topics raised in our latest analysis, as well as to discuss your business and strategic objectives.
To schedule a meeting at IBC, please contact: