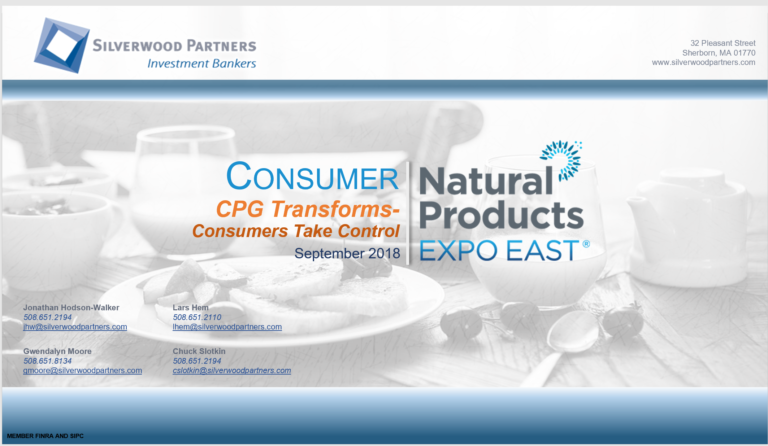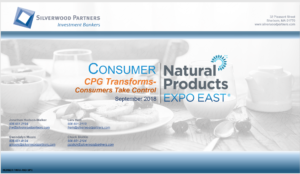 CPG Transforms - Consumers Take Control
Today, Silverwood Partners has published a Strategic Analysis and Deal Review of the natural products and consumer packaged goods (CPG) industry.
"CPG Transforms - Consumers Take Control" (download) follows their previous publication "The Plant-Based Revolution" (download) as, what started as revolution in plant-based meat, has swept through the industry & transformed CPG forever. Modern consumers - instagram savvy, e-commerce mavens - are demanding control, requiring high levels of personalization from products which must fundamentally conform to their values.
Highlights of the Silverwood Industry Analysis Include:
Global Rise of Plant-Based Diets
Plant-Based and Lab-Cultured Meat Pressure Animal Protein
Seafood Follows Meat into Animal-Free
Animal Free Collagen Poised for Growth
Rapid Growth of Dairy Alternative Market
Dairy Pushes Back: Mulu, "Februdairy", and the FDA
"Shop by Values" Sweeping Ecommerce Sites
Ecommerce Enables Mass Adoption of Animal-Free Personal Care
Ecommerce Driving Vitamin & Supplement Market
Grassfed Beef: Growth Accelerates, but Challenges Remain
The D2C Revolution
Capital Markets Review for 2018
Financing and M&A Transaction Highlights and Data since Expo West 2018
We welcome the opportunity to discuss your strategic and financing needs at Expo East.  Contact Jonathan Hodson-Walker or Lars Hem to schedule a meeting.