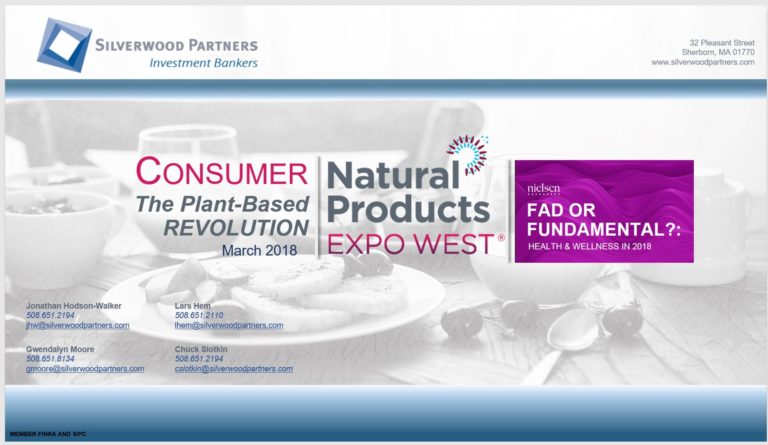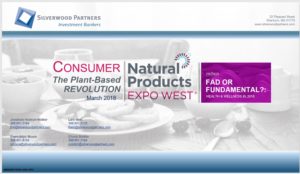 The Plant-Based Revolution: Silverwood Industry Analysis
Silverwood Partners has today published a Strategic Analysis and Deal Review of the natural products industry, which can be downloaded here. The presentation includes a comprehensive Nielsen analysis of the health and wellness industry.  Highlights of the Silverwood Industry Analysis Include:
Global Rise of Plant-Based Diets
Emergence of Sustainable Urban Farming
Plant-Based Options Driving Snack Category Growth
Rapid Growth of Dairy Alternatives Market
Edible Dairy Alternatives Becoming Multi-Billion Dollar Category
Transformation of Protein Within Big Food
Emergence of Pea Protein as Leading Alternative Protein Source
Plant-Based Meats find Mainstream Consumer Acceptance
Sustainability Driving Development of Cellular Agriculture
Spotlight:  Plant-Based Athletes
Capital Markets Review for 2018
Financing and M&A Transaction Highlights and Data since Expo East
We welcome the opportunity to discuss your strategic and financing needs at Expo West.  Contact Jonathan Hodson-Walker, Lars Hem or Chuck Slotkin to schedule a meeting.